My offsite weekend morning reads:
• Google's artificial intelligence rivals Xerox's computer errors: The "T" technology behind ChatGPT was designed at Google, but languished there. Sound familiar? (Bloomberg)

• Wall Street's recession warning flashes. Some wonder if it's wrong. The yield curve has been suggesting since last year that the economy was headed for a meltdown. (New York Times) see also Man, where's my recession? It therefore seems that the economists have made a bad call on the recession. Why were they wrong? (New York Times)

• What could be one of the biggest jewelry heists of all time is still a mystery: And the stolen merchandise – worth $8.7 million or around $100 million, depending on who you ask – is untraceable. (business week)

• Summer of snot: hay fever crisis ruins dates, work and weddings: Seasonal allergies may seem like a joke to some, but they can be really disruptive and make things worse. (The Guardian)

• New Mark Zuckerberg Abandoned: Mark Zuckerberg is having a great summer. On his own, he is in great shape, due to his fondness for mixed martial arts and his proclivity for doing calisthenics while wearing a camouflage-print weighted vest. He recently welcomed a new girl into the world; placed in jiu-jitsu competitions; appeared sweaty and shirtless with UFC champion Alexander Volkanovski; and enjoyed the attention of engaging in a light trolling from Elon Musk. It took just a few days for more than 100 million brilliant influencers, anthropomorphized brands and ordinary humans to sign up for Threads, his company's new Twitter clone. (Atlantic)

• means of game production: Fed up with a toxic industry, video game workers are turning to a radical alternative. (Slate)

• Seven projects to reclaim NYC space from cars: New York's first public realm officer is working on piloting plans in each of the city's five boroughs that will make it greener and more welcoming to walkers and cyclists. (CityLab)

• The food writer who wants to release the recipe: Rebecca May Johnson seeks to restore cooking to its rightful place as knowledge, expressing pleasure, desire and resistance. (New Republic)

• How I learned to stop worrying and love Nadal: Moreover, tennis is a game that repeats itself ad infinitum: it is dynamic, but a given point can result from only one of the two configurations (deuce or ad court). If you find a strategy that works, you should be able to repeat it. And most points aren't ended triumphantly – they end in errors, meaning the player who controls the ball the best and refuses to miss will almost certainly be the winner. (Defector)

• How Mission: Impossible became the last big stunt franchise: Over the past 27 years, the Mission: Impossible franchise has become the last bastion of "live-action." (Reverse)
Be sure to check out our Masters in Business today with Tom Wagner, co-portfolio manager at Capital of Knighthead. The $10 billion event company is a value-oriented investor specializing in companies in need of financial and operational restructuring. He is a co-investor with soccer legend Tom Brady in several sporting assets, including a pickleball team, Birmingham City F.C. in the English Football League and an endurance motor racing team. Wagner began his career as a hedge fund accountant at Ernst & Young.
How Much Income Do You Need To Break America's Richest 1%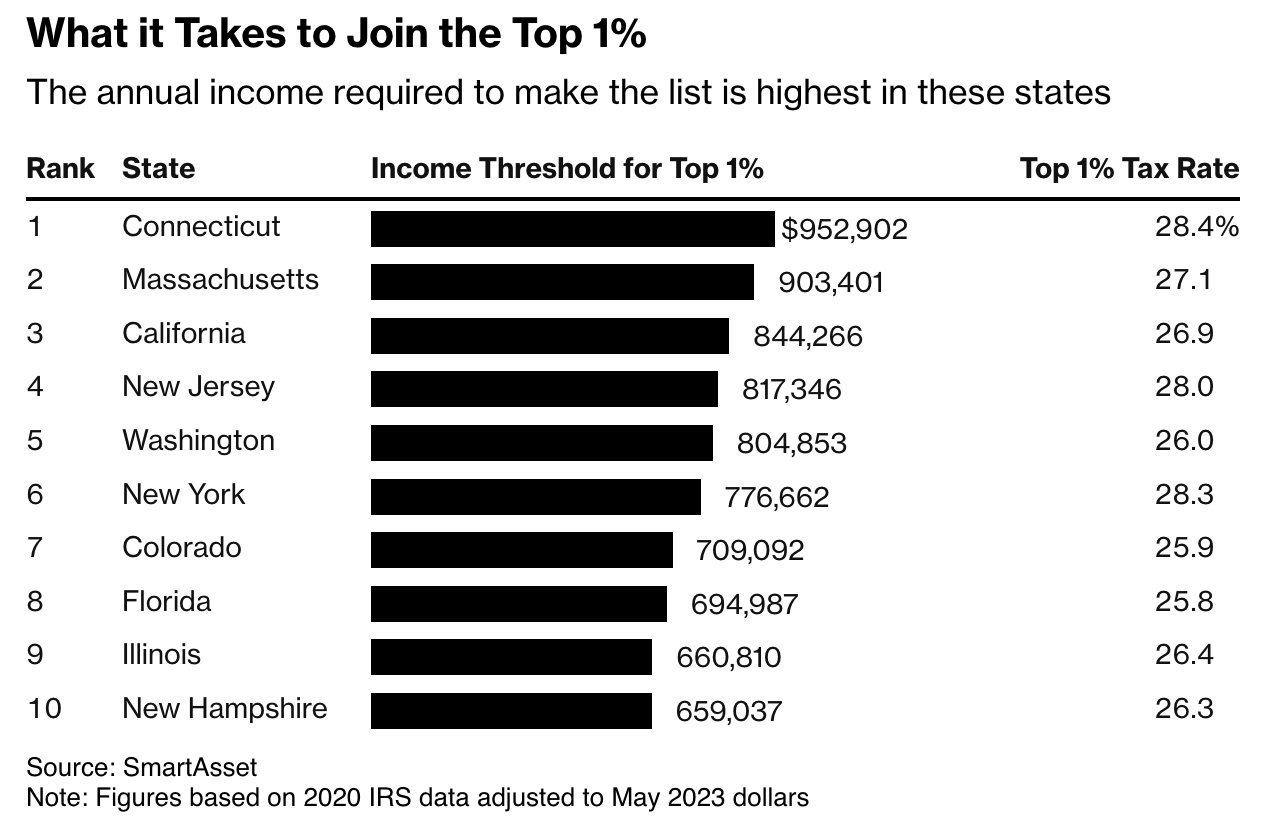 Source: Bloomberg