My homecoming morning form The WFH reads:
• Is a recession coming? Better Check Men's Underwear Sales. Champagne streams, lipstick sales, restaurant trends, library activity, lipstick and men's underwear sales, and french fries sales each provide a little insight. (Barrons)

• Farewell to the prophets of doom: The conventional wisdom about the global economy is that the rich get richer and the poor get poorer. What if it wasn't true? (Atlantic)

• Slow Burning Minsky Moments – Or Montier Moments? We seem to be living in an era of continuing financial crisis. I suspect this is the result of a massive accumulation of private sector debt. Sometimes these accumulations are accompanied by very high credit growth rates, giving rise to a credit bubble. On other occasions these buildups simmer in the background, largely unnoticed until the proverbial shit hits the fan, when they suddenly act as an amplifier causing a much steeper drop than it would have been the case otherwise. I call these systemic vulnerabilities "slow-burning Minsky moments." Unfortunately, most markets today seem to bear the fingerprints of those times. (FinancialTimes)

• HGTV makes our homes boring and makes us sad, study finds: Two professors discovered that the home improvement media encourages homeowners to decorate for the masses, not for their own happiness. (Washington Post)

• Threads is poised to make all the money Twitter isn't: Advertisers are already clamoring to spend big on Meta's new social network. (Slate) see also Are chat threads an existential threat to Twitter? Elon Musk's Twitter is no fun; Twitter's swan song (maybe) (young money)

• Turtle Estate Planning – A Chore Of Having A Pet That Lives 100 Years: More and more people are putting their desert tortoises and other long-lived animals in their wills. Can grandchildren take "Jebediah?" (the wall street journal)

• Rebuilding Ukraine is an act of resistance: The Russian invasion caused 1,000 billion dollars in damage. Technology will be at the heart of Ukraine's post-war recovery (Wired)

• Why do so many people still support Donald Trump? People will vote for Donald Trump in 2024 for many different reasons, but most importantly: They believe he represents what they want and is the best person available to get it for them.. These are very good reasons to vote for someone. In this case, however, his enthusiastic supporters are ready to send a delusional, vengeful autocrat to the White House to get what they want. A man who will know far better than 2016 how to use the vast powers of the presidency to corrupt and ultimately destroy American democracy. And in doing so, stir up the other democracies of the world. (The authoritarians)

• Mango is the king of summer in Miami: Those who sweat and suffer in June and July in South Florida are rewarded with mangoes blushing from trees in yards, streets and malls.. (New York Times)

• If Shohei Ohtani gets $600 million, he should thank Satchel Paige: Black baseball players entered the white leagues and brought with them a different philosophy that helped change the power dynamics between teams and talents. (Bloomberg)
Be sure to check out our Masters in Business next week with Tom Wagner, Co-Portfolio Manager at Capital of Knighthead. The $10 billion event company is a value-oriented investor specializing in companies in need of financial and operational restructuring. He is a co-investor with soccer legend Tom Brady in several sporting assets, including a pickleball team, Birmingham City F.C. in the English Football League and an endurance motor racing team. Wagner began his career as a hedge fund accountant at Ernst & Young.
Bond market performance in Q2 2023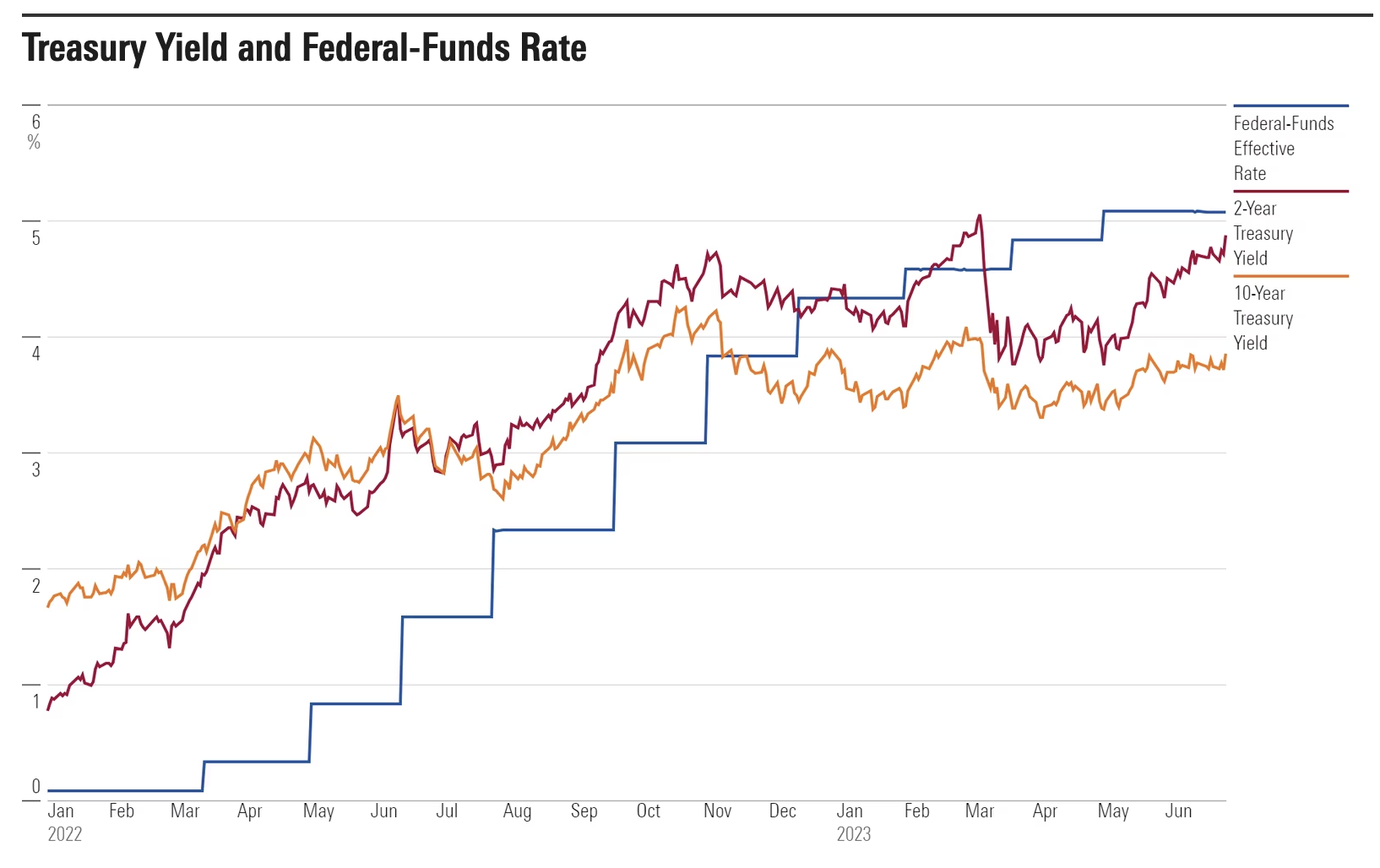 Source: the morning star