Avert your eyes! My Sunday morning examine incompetence, corruption and political failures:
• Floods, fires and deadly heat are the alarm bells of a planet on the brink: The world is warmer than it has been in thousands of years, and it's like every alarm bell on Earth is ringing. The warnings are ringing in the drenched mountains of Vermont, where two months of rain have just fallen in just two days. India and Japan were inundated by extreme floods. (Washington Post)

• America is wrapped in miles of toxic lead cables: The United States has spent decades eliminating lead from paint, gasoline and pipes. WSJ investigation reveals hidden source of lead contamination that has not been addressed. (the wall street journal)

• iQuit: my hellish attempt to leave the walled garden of Apple: If you want to transfer a decade of photos and text out of Apple's ecosystem, prepare for the pain. (business week)

• How Hollywood Appeases China, Explained by the Barbie Movie: Vietnam banned Barbie on a card with the nine-dashed line. Here's why it matters. (Voice)

• A Good Perspective: Mining Climate Anxiety for Profit: From the opening, it was clear that the climate crisis itself has become a means for mining interests to gain social license, providing immediate justification for the industry's activities. The decarbonization of the modern world is going to make a lot of money for the mining world – according to Hoffman's estimate, in the range of fifteen to twenty trillion dollars. At one point, Hoffman appeared to be addressing an unnamed, climate-conscious consumer, the kind of person who wants their personal choices to reflect their desire to save the planet – a desire that in all likelihood will make people richer. present in this room. "To stop global warming," he said, "you need us." (The drift)

• Why they smear Lina Khan: My god, they hate Lina Khan. This brilliant jurist and public interest fighter, once in a generation killer of Reaganomics, has drawn more vitriol, mockery and firing than any of her predecessors in living memory. She must be doing something right, huh? (Pluralistic)

• Why the last 10 years of American life have been particularly stupid: It's not just a phase. (Atlantic).

• The Republican noise machine: David Brock, the Reform Conservative noisemaker, on how the right has sabotaged journalism, democracy and truth. (Mother Jones)

• She performed an abortion on a 10-year-old rape victim. The right vilified her: Caitlin Bernard deserves a statue for her service. Instead, she was harassed and persecuted. (The Guardian)

• How an AI-Written Star Wars Story Created Chaos at Gizmodo: The error-filled history of Star Wars movies and TV shows shows why artificial intelligence shouldn't be involved in intelligence gathering, journalists have said. (Washington Post)
Be sure to check out our Masters in Business next week with Tom Wagner, Co-Portfolio Manager at Capital of Knighthead. The $10 billion event company is a value-oriented investor specializing in companies in need of financial and operational restructuring. He is a co-investor with soccer legend Tom Brady in several sporting assets, including a pickleball team, Birmingham City F.C. in the English Football League and an endurance motor racing team. Wagner began his career as a hedge fund accountant at Ernst & Young.
Last week was the hottest on record – here's why we keep breaking records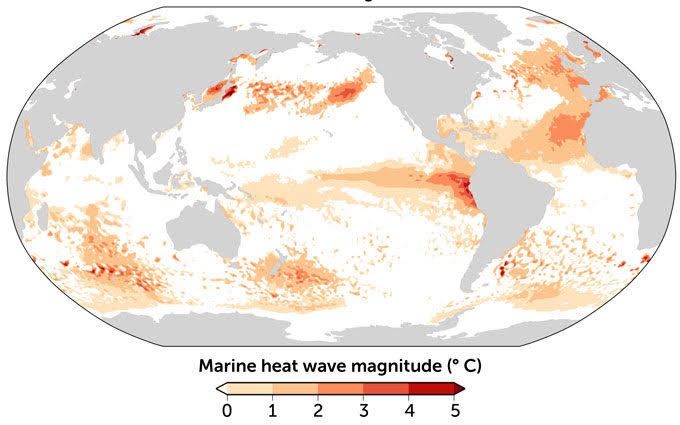 Source: Scientific news
Subscribe to our read-only mailing list here.
~~~
To find out how these readings are put together each day, please see this.