my morning form The WFH reads:
• The Global Stock Market Rally Isn't As Close As You Think"If you assign equal weightings to the MSCI Europe, Japan and US indices, this is the best start to the year since 1998," notes Lapthorne. In dollar terms, the Nikkei 225 is off to its best start since 1999." (FinancialTimes)

• Meta's 'Twitter Killer' app is coming: Meta, which owns Facebook and Instagram, teased a new app called Threads that is set to take Twitter to real-time digital conversations. (New York Times) see also So where are we all supposed to go now? It's the end of a social era on the web. That's probably a good thing. But I already miss the places where it felt like everyone was there. (The edge)

• Exploiting the Wonderfully Weird Drift of Stocks Overnight: In practice, the anomaly is impossible to exploit easily due to trading costs (liquidity is much lower overnight, and one-day holding periods would make this a high-turnover strategy). The NightShares ETF has actually lost nearly 6% over the past year, compared to the US stock market's 18% gain over the same period. (FinancialTimes)

• Remix Asset Allocation: Insurers Cut Bonds, Then Do Partial Reversal: The industry is also expanding its exposure to equities and alts, amid rising rates. (Investment Director)

• The Golden Age of TV Proved Costly for Streamers: Losses of flows and layoffs were already leading to a downturn in the industry. Then the writers' strike hit. (the wall street journal)

• The explosive growth of the fireworks market: The changes really accelerated after 1972, when Congress created the Consumer Product Safety Commission (CPSC) in the United States. Fireworks, with their history of mayhem, were one of the agency's first targets. CPSC made sure a rocket took off, made the bases stronger and longer so the rockets didn't tip over, and then you had a rocket ground firing at the viewer. They made sure the fuses were consistent. (NPR)

• Joe Biden's $400 Billion Man: Jigar Shah, who runs the Department of Energy's loan program, is trying to do away with big money for green tech projects, while navigating an unforgiving political environment https://www.wsj.com/articles /green-energy-climate-loans-49fda73b

• Demand for flat year-over-year rent growth. Realtor.com: First Year-Over-Year Rent Decline in Their Data (Calculated risk)

• Non-religious Americans are the new voters for abortion: In 2021, the proportion of Americans with no religious affiliation (a group that includes atheists, agnostics, and people who do not identify with any particular religion) who said abortion was a critical issue began to increase. And for the first time in 2022, the year the Supreme Court struck down federal abortion rights in Dobbs v. Jackson Women's Health Organization, the share of Americans with no religious affiliation who said abortion was a critical issue was higher than the share of white evangelicals. who said the same thing. (FiveThirtyEight)

• Hollywood has a Jamie Foxx-shaped hole in its heart: The actor wasn't on the red carpet for the Miami premiere of 'They Cloned Tyrone,' but his presence was still felt. (Washington Post)
Be sure to check out our Masters in Business this weekend with Jenny Johnson, CEO of Franklin Templeton, which manages $1.5 trillion in client assets. She has been with FT since 1988 and has held senior positions in investment management, distribution, technology, operations and high net worth clients. Franklin Templeton oversees more than 9,000 employees and 1,300 investment professionals. Johnson is on the list of the most powerful women (Barron's, Forbes, American Banker, etc.). She was CEO in February 2020.
It's a world of inflation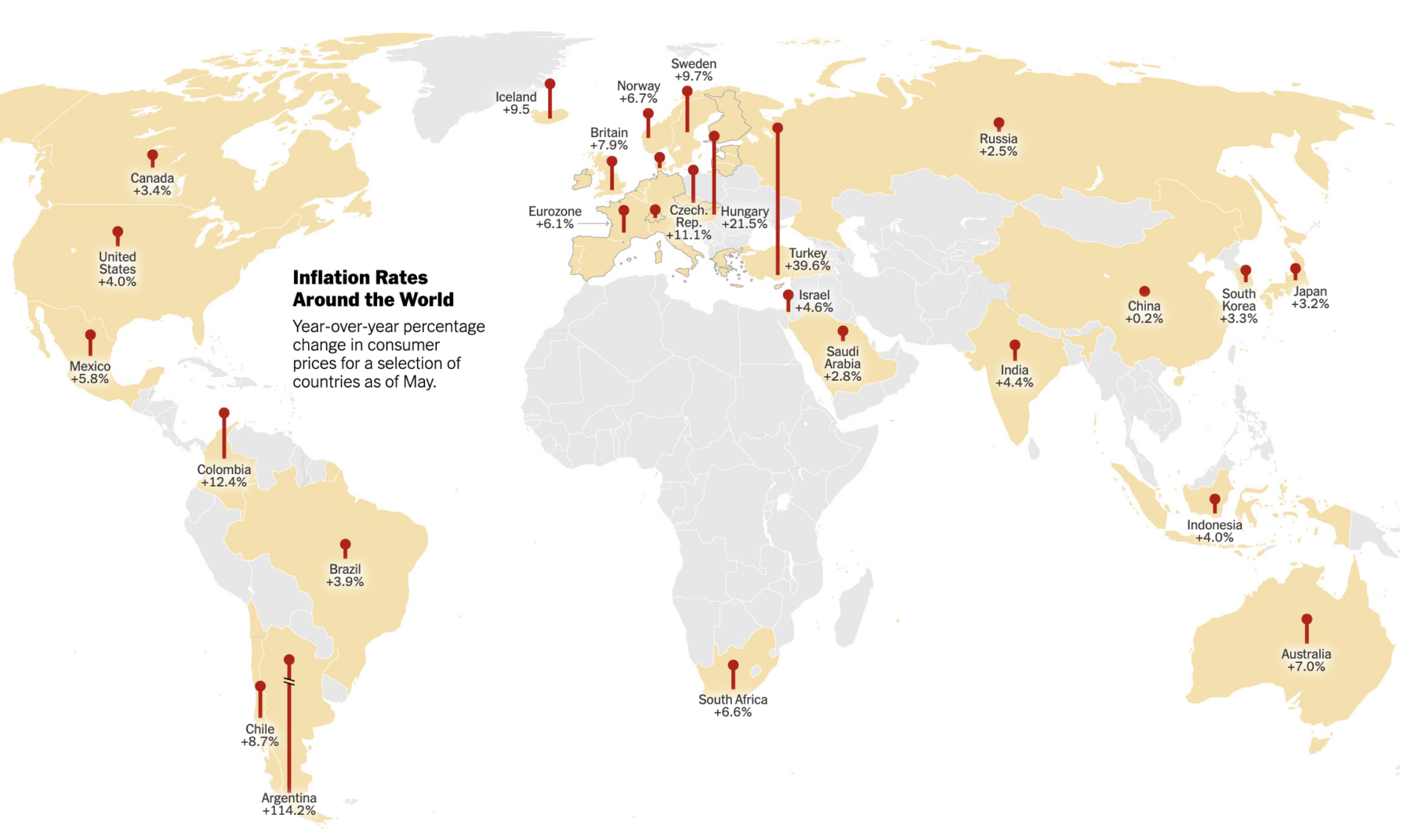 Source: New York Times