My morning train says:
• Stocks made an 18-month round trip from Tech Bear to AI Bull: The same handful of megacap names that took the market down fueled the latest surge. (business week)

• Inflation cools sharply in June, good news for consumers and the Fed: The consumer price index climbed much more slowly in June, a relief for buyers and an encouraging – if inconclusive – sign that America could achieve a "soft landing". (New York Times) see also Inflation drops to lowest level since March 2021 as economy cools: Wages are now rising faster than prices. The Federal Reserve is not yet ready to declare victory, as inflation is not yet steadily declining. (Washington Post)

• Masters of their own realities: Taylor Swift isn't alone in re-recording classics. Many musicians return to the studio to retrace the past and reclaim their work. (The ring)

• Empty office buildings are transformed into vertical farms: With office utilization approaching 50% of pre-pandemic levels, cities are putting underutilized space to new use for growing food. (Smithsonian Magazine)

• Peak TV has reached its peak: From depleted talent to massive losses, the writers' strike magnifies a plummeting industry (Variety)

• "Bastion of the super-rich": in the private museum of a New York billionaire: An art collection, including pieces by Picasso, Lichtenstein and Cézanne, has been kept secret for years, but for some members of the public, the door is slowly opening. (The Guardian)

• Platforms shun politics and current affairs: They can run, but they can't hide (Change of anchor)

• A year of cosmic wonders with the James Webb Space Telescope: With a new image, NASA commemorates the first anniversary of science with the most powerful observatory ever sent into space. (New York Times)

• Ocean temperatures 'much higher than anything models predicted', climate experts warn"We are in uncharted territory and we can expect more record breaking as El Niño develops further and these impacts will extend into 2024," the director of climate services said Monday. 'World Meteorological Organization, Christopher Hewitt. "This is worrying news for the planet." (CBS News)

• Make them laugh and pass out: A year ago, Matt Rife was just another struggling road comedian. Then it exploded on TikTok. (New York Times)
Be sure to check out our Masters in Business next week with Tom Wagner, Co-Portfolio Manager at Capital of Knighthead. The $10 billion event company is a value-oriented investor specializing in companies in need of financial and operational restructuring. He is a co-investor with soccer legend Tom Brady in several sporting assets, including a pickleball team, Birmingham City F.C. in the English Football League and an endurance motor racing team. Wagner began his career as a hedge fund accountant at Ernst & Young.
Measure it differently and inflation is behind us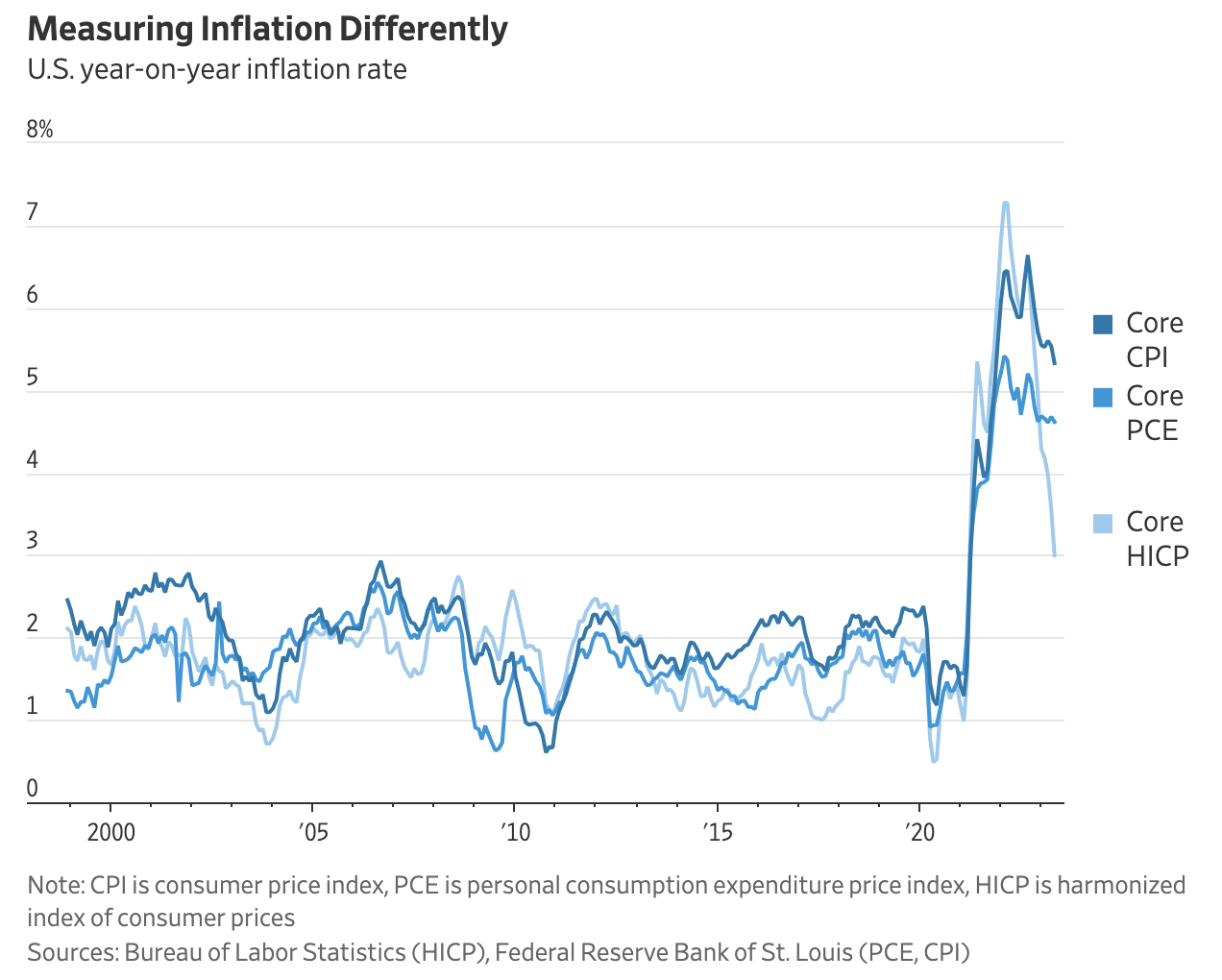 Source: the wall street journal