Update: See Department of Labor payroll data for comparison to ADP's estimate in the chart at the end of this article.
yesterday news that US businesses ramped up hiring in June bolsters confidence that the Federal Reserve will continue to raise interest rates to keep inflation under control. In turn, the equity risk factors that are seeing the biggest gains this year could be vulnerable if another round of hawkish monetary policy unfolds.
Using a set of ETF proxies shows that Invesco S&P 500 High Beta ETF (SPHB) is currently leading the pack so far in 2023 with a strong return of 21.1%, as of Thursday's close ( July 6). The iShares S&P 500 Growth ETF (IVW) comes in just second with a 20.1% rally. The broader US stock market, by comparison, is up 15.9%, based on the SPDR S&P 500 (SPY).
For a handful of equity-related factors, red ink risk has already arrived for 2023. Although most risk factors are showing year-to-date gains, the high dividend yield (VYM) and the momentum (MTUM) are the exceptions. Both funds have stumbled all year, alternating between modest/flat results and losses.
Market expectations pointed to another quarter-point rate hike at the next FOMC meeting on July 26, after a pause at the June meeting, based on Federal funds futures. The main change after yesterday's jobs data: the crowd is now eyeing a bigger chance that the Federal Reserve will continue to raise rates later in the year. Although the implied probabilities still favor a single forecast, confidence has faded that rates will peak after the July 26 meeting.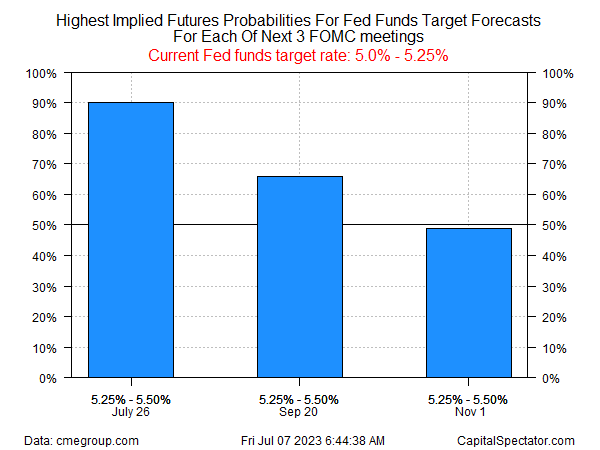 A key variable is the Department of Labor's comparison of today's US payrolls report to June. At the time of this writing (about 90 minutes before the 8:30 a.m. EST release), economists expect a smaller but still solid increase in hiring, according to Econoday's Consensus Point Forecast. .com. If the numbers show a strong upside surprise, in line with the ADP report, the hawkish Fed policy outlook will strengthen, creating more headwinds for the best-performing equity factors.
Shortly after this article was originally published, the Department of Labor reported that its estimate of the U.S. private sector payroll rose slightly in June, well below ADP's estimate:
---
How is the risk of recession evolving? Monitor prospects with a subscription to:
The U.S. Business Cycle Risk Report
---