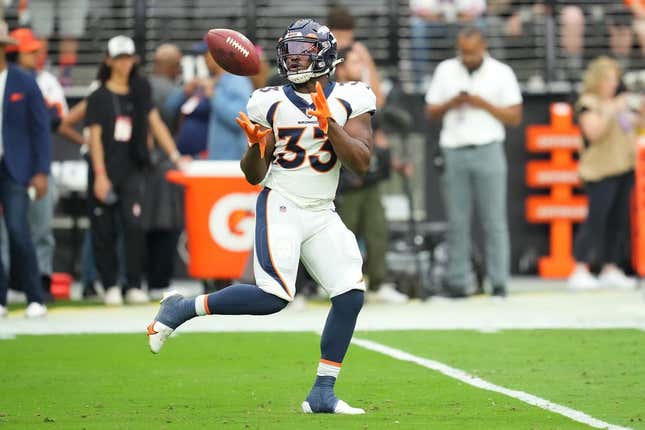 Coming out of a torn ACL last season, Denver Broncos running back Javonte Williams feels ready to be cleared for the start of training camp, he said on Sunday
A Bold Move To A Different Banana-Colored Bench Than We Envisioned | Keep it a buck (and)
Williams spoke to reporters on Sunday at a soccer camp in Colorado he co-hosted with teammate Pat Surtain II, and was asked if he would be healthy enough for the opener. from the camp on July 25.
"I mean, that's the plan," Williams said. "I feel like I'm ready to go."
THE BroncosA second-round pick in the 2021 NFL Draft, Williams had a strong rookie with 203 carries for 903 yards and four touchdowns, plus three receiving scores. But he suffered the torn ACL in Week 4 of last season against the Las Vegas Raiders, ending his second campaign.
He had 47 attempts for 204 yards and no touchdowns when he went down.
As for what remains in Williams' recovery process, the 23-year-old said it was up to "how the Broncos feeling about it… Just seeing how I feel, moving, just trying to get my speed back to normal, things like that.
THE Broncos are moving forward with Williams as the No. 1 running back option and signed Samaje Perine from the Cincinnati Bengals in the offseason to back him up
–Field-Level Media