As said to Nicole Audrey Spector
Chronic fatigue and migraine attacks started in high school. Some days I was completely unable to function. Because I had a story of depression And anxiety, it was impossible to know if the fatigue and migraine attacks were caused by a mental health problem. My family and I sort of swept everything under the rug as an "emotional" issue rather than a physical one.
Things would soon get worse.
I lost my virginity to my husband shortly after we got married. THE pain during and after sex was absolutely unbearable. It felt like shards of glass were breaking inside my vagina and pelvis.
I am an Orthodox Jew, as is my husband, and in our religion, women go to a teacher, called the Kallah teacher, to learn all about sex before they get married. My teacher in Kallah had warned me that sex could be painful at first, but the pain would go away over time as my husband and I continued having sex.
The pain has not gone away.
Sex has become not just a chore, but a nightmare. Each time, I felt like knives were cutting me. The pain lasted for days after sex. It wasn't just in my vagina, it was in my pelvis, back and legs – sending hot daggers all the way through me. I felt like I had to pee but I couldn't. I was often bloated and had severe cramps, even when I didn't have my period.
I didn't want my husband to feel like he was the cause of my pain, because he wouldn't want to have sex with me if he thought he was hurting me. I didn't want that. I wanted a normal marriage that included sex. Although we had been chaste before marriage, we had always had a strong attraction for each other and we kissed all the time. We were eager to push our intimacy a little further.
So I hid the pain as best I could. Not just my husband, but everyone. In my community, we don't talk openly about sex. It's considered a very private experience, and one that should be kept entirely at home between married couples. I never really thought about asking friends or family for help.
Finally, I told my husband how much pain I was in. I sought medical help from a number of doctors, including obstetrician-gynecologists, who told me the pain was normal. I was told to try to relax, try meditation and drink a glass of wine before sex. Basically, I was told that my symptoms were all in my head. I believed the doctors who told me that. They were the experts, after all.
I lived with the pain and quickly became pregnant. Unfortunately, I lost the pregnancy after about three months, but during that brief time the pain eased slightly. It took four years to get pregnant again, and when I did, I again felt the pain less intensely. Our daughter was born and soon after, our son. My pregnancy with him was much more painful. I had horrible cramps and kept thinking I was going to give birth.
After giving birth to my son, the pain just wouldn't stop. Sometimes it landed me in the hospital for weeks. The doctors were distraught. They kept referring me to other doctors and prescribing me painkillers.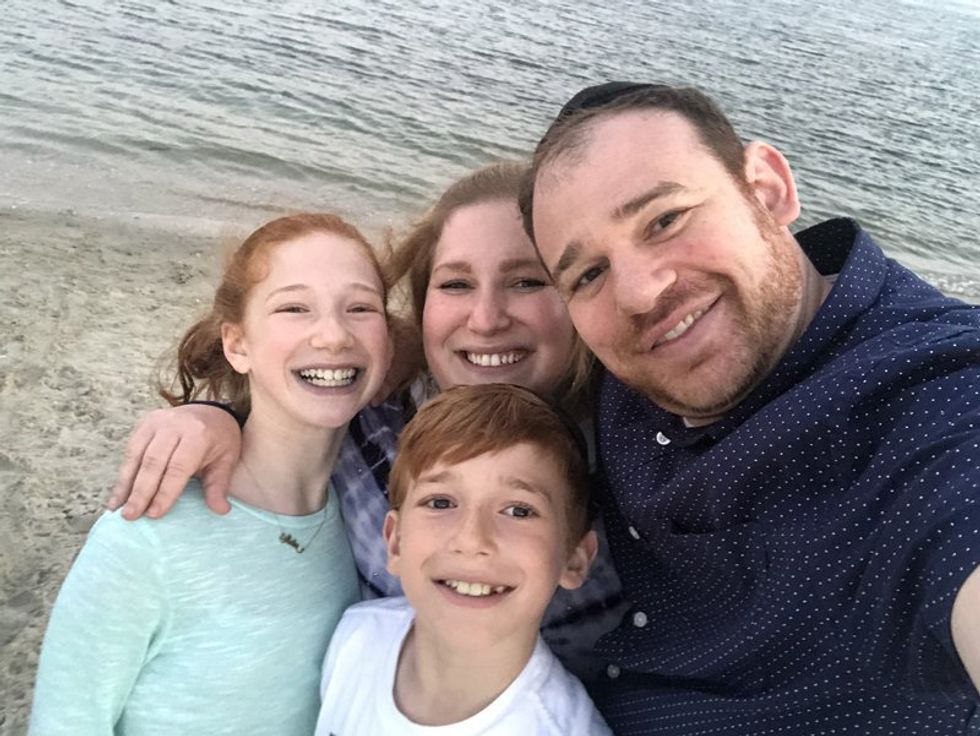 Rachel with her husband and children, 2019
Finally, I saw an OB-GYN who took my symptoms seriously. I had a laparoscopywhich led to a diagnosis finally: endometriosis. I had an ablation on parts of my pelvic cavity where they said endometriosis had taken hold.
Learning that I was possibly cured was one of the best moments of my life.
But my joy soon turned to devastation. I was still in pain after the procedure told me it would cure me.
After going through second, third and fourth opinions with each doctor telling me I should be fine now, I met another OB-GYN who examined me and told me there was still endometriosis in my pelvic cavity. She took it off and said, this time I really should be healed.
I was not. But I remained under the care of this doctor. She was supposed to be the best of the best. Finally, she suggested that she make a radical hysterectomy. This would mean having my ovaries, cervix and uterus removed. It would mean the end of having children forever, which was not what my husband or I wanted.
I was devastated at the thought of a radical hysterectomy, but no one told me there were other options available. So, under a veil of heavy painkillers that still didn't help the pain inside me, I agreed. I was only 28 years old.
Accepting the operation is one of my deepest regrets.
The hysterectomy was completely unnecessary as far as my pain was concerned. Saying I was heartbroken doesn't begin to explain how awful I felt. I have become a shell of a person.
About a year later, everything changed. I met a doctor who examined me and explained that endometriosis was like an iceberg. You can remove the end of it, but that doesn't remove it – nor does a hysterectomy, because endometriosis can live anywhere in your body, even your eyeballs.
My endometriosis lived in my pelvic cavity and in the vaginal and anal areas. I ended up having surgery with an endometriosis specialist to remove everything. My the insurance did not cover the operationso I raised $24,000 to have it.
The doctor assured me that in six weeks my pain would be gone. And wouldn't you know it, exactly six weeks to the day, the pain was gone. My agony was finally over, but I had lost so much needlessly to come to this moment of relief.
I speak now because I refuse to let other women accept the misconception that their real physical symptoms are all in their heads. Women deserve a conversation about all the options available to them before making life-changing decisions. I certainly did. I realize it now, after going through so much, so needlessly.
I now stand up for myself in healthcare settings and hope my story inspires other women to also stand up for themselves when it comes to critical decisions about their well-being. And I hope to never see another woman hurt the way I was hurt by not knowing her options.
This resource was created with the support of Sumitomo Pharma.
Do you have real women, real stories you want to share? Let us know.
Our Real Women, Real Stories are the authentic experiences of real women. The views, opinions and experiences shared in these stories are not endorsed by HealthyWomen and do not necessarily reflect official HealthyWomen policy or position.
From articles on your site
Related articles on the web